When your children need fillings or bonding to build up a chipped tooth, you don't have to worry about how the dental work will look. White fillings, as provided by your children's emergency dentist after a trauma, fit right in with the rest of the teeth. And for filling cavities, BPA free fillings are the only type of white fillings used by the best dentist for kids in Brooklyn, NYC.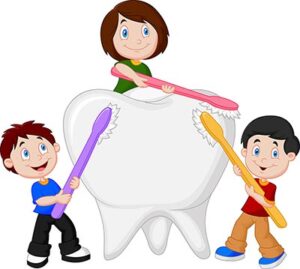 Most people receive dental fillings at some point in their childhoods. In the past, the primary material for fillings was silver or amalgam. Although strong and safe, every time your child speaks, chew or smiles, the silvery color shows distinctly. White fillings, also known as composite fillings, provide an aesthetically pleasing alternative, made with a strong, safe and virtually invisible material for your child's dental health.
Mixed with a bonding agent, the glass, quartz or resin material used in white fillings safely restores and enhances the shape and strength of your children's teeth. While previous composite fillings were only used on the front teeth or the sides of back teeth due to strength concerns, new materials and techniques have increased the durability and longevity of the fillings, resulting in lasting, elegant restoration of your children's compromised teeth.
The Benefits and Uses of White Fillings
Composite fillings aren't just used for cosmetic dentistry purposes. They are extremely versatile with a wide range of uses and benefits, such as:
Less of the existing tooth to remove than if you opted for silver fillings, as the white filling bonds directly to the tooth material
Aesthetically pleasing as color of material that's easily adjusted by your pediatric dentist in Brooklyn to match the adjacent teeth
Chipped, broken or cracked tooth repair
Contouring to change length or shape of small teeth or misshapen teeth
Insulation of the tooth nerve against extreme temperatures, something not provided by silver fillings
Closing wide spaces between teeth, part of a smile makeover
Protecting and strengthening weakened teeth
The Method Used for Your Child's White Fillings
The best pediatric dentist provides a kid-friendly environment to ensure any dental process is as painless and comfortable as possible for your children. Communicating the process to your child provides greater understanding and cooperation. Steps to place BPA free fillings for your children's teeth include:
Numbing the gum and tooth, first with gel on a cotton swab and then with a small needle in the numbed gum
Removing the decayed material with small, specialized dental tools that can make high-pitched noises or grinding sounds
Cleaning the tooth and area thoroughly to remove all grit and material that could compromise the filling or bonding
Applying a mild acidic agent to slightly roughen the tooth, ensuring a good bond
Matching the color precisely to your children's other teeth for the greatest invisibility
Applying the tooth-colored material to your child's tooth in layers, carefully molding to provide a good bite, proper fit and pleasing appearance
Hardening between layers with a handheld curing light
Trimming and polishing the final layer for a smooth and pleasing finish
The best children's dentist finishes a white filling in 30 to 60 minutes per tooth with natural-looking results. The effect is instantaneous, and there's little-to-no worries regarding aftercare.
BPA Free Fillings
Due to concerns regarding Bisphenol A (BPA) in the news, your pediatric dentistry of Brooklyn uses only BPA free fillings. The FDA recently banned BPA in baby bottles and children's drinking cups. Many other companies followed suit by eliminating BPA from their products as well.
Though present at one time in white fillings, your pediatric dentist in Brooklyn NY now uses only BPA free fillings as materials in their composite resin. Your child's safety and well-being are essential. so using the safest, most well-regarded materials ensures their continued health.
White Fillings for Your Child's Self-Esteem
Children develop issues regarding their teeth for any number of reasons. Poor brushing techniques, illnesses, injuries or trauma can all impact the health of their teeth and possibly put their oral health at risk for years to come if not treated correctly. Pediatric dentistry of Brooklyn is that important to your children's present and future health.
The best pediatric dentist in Brooklyn strives to use the safest, most advanced materials for your children's health. As with all fillings, white fillings do eventually wear down and must be replaced. However, the advances in technology, methodology and the materials used have strengthened the durability and lengthened the time between needed treatments. White fillings often last seven to 10 years. White fillings give your child confidence and a healthy bite, as well as protecting growing jaws and facial structures. Taking into account your budgetary needs and concerns, as well as the best course of action for your children, your pediatric dentist in Brooklyn works with to make the experience as painless and trauma-free as possible.
Do you have any questions about the White Fillings (BPA free) for Kids & Teens in Brooklyn? For more information or to schedule an appointment with the Brooklyn's top pediatric dentist Igor Khabensky DDS of Brooklyn Pediatric Dentistry Center? Please contact our kids dentistry center for consultation with the kids dentist Igor Khabensky DDS.
Pediatric Dentistry Center
2148 Ocean Ave, Ste 401A
Brooklyn, NY 11229
☎ 718-339-1810
DISCLAIMER: PLEASE READ CAREFULLY
The information on this website is to provide a general pediatric dentistry information. In no way does any of the information provided reflect a definitive treatment advice. It is important to consult a best in class pediatric dentist in Brooklyn regarding ANY questions or issues. A thorough dental evaluation should ALWAYS be performed for an accurate diagnosis and treatment plan. Be sure to call your local kids dentist or pediatric dentist Dr. Igor Khabensky DDS or Dr. Tracy Kim, to schedule a consultation.