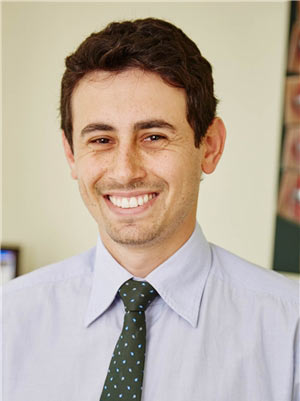 Dr. Igor Khabensky is a dedicated and compassionate general dentist focusing on serving kids and teens.  Dr. Igor grew up in Brooklyn, NY where he completed most of his K-12 education before graduating with honors from Fordham University.
During his time at Fordham, Dr. Khabensky was fueled by his interest in science and dentistry and helped conduct research at NYU. He was even published with his peers in the Journal of Dental Research in 2010 on accelerated tooth movement.
It was then he attended New York University, where he received his dental training. NYU allowed Dr. Igor the opportunity and privilege to be a part of two dental outreaches to underserved communities in Puebla, Mexico and Machais, Maine; opportunities that have helped shape his desire to help and go above and beyond in his patient care.
In 2014, Dr. Khabensky received his dental degree from NYU finishing at the top of his class. He then completed his residency in general dentistry at Woodhull Medical Center where he stayed for three years completing his Implant Fellowship under specialist supervision and guidance.
Dr. Khabensky speaks English, Spanish, and Russian, and his awareness of these different languages makes him accessible to pediatric dentistry patients in Brooklyn from a variety of cultural backgrounds.
Dr. Igor's top priority is his patient care. Patient's know Dr. K to be diligent and careful with his dental examinations and value his expertise and excellent bedside manner.
On his time away from the office, Dr. Igor Khabensky enjoys time with his wife, Gabriella, and his mini-whoodle, Lola. His hobbies include playing and watching hockey and basketball, fishing in the summers, and skiing in winters.
Do you have any questions for the General Dentist Dr. Igor Khabensky? Would you like to schedule an appointment with the best rated kids dentist in Brooklyn? Please contact our pediatric dental center in Brooklyn for a consultation.
Here at Pediatric Dentistry Center in Brooklyn, Dr. Igor Khabensky is proud to offer our patients the most revolutionary technology in dentistry today: the Waterlase MD™ Dental Laser. Dr. Khabensky is among the best general dentists in Brooklyn. He is fully trained and certified by the World Laser Institution and Biolase, Inc. Dr. Khabensky is one of few dentists in Brooklyn and about 2% of dentists in America – and a handful in Brooklyn, NY – providing our patients with laser dentistry.
Pediatric Dentistry Center
2148 Ocean Ave, Ste 401A
Brooklyn, NY 11229
☎ 718-339-1810
DISCLAIMER: PLEASE READ CAREFULLY
The information on this website is to provide a general pediatric dentistry information. In no way does any of the information provided reflect a definitive treatment advice. It is important to consult a best in class pediatric dentist in Brooklyn regarding ANY questions or issues. A thorough dental evaluation should ALWAYS be performed for an accurate diagnosis and treatment plan. Be sure to call your local kids dentist or pediatric dentist Dr. Igor Khabensky DDS or Dr. Tracy Kim, to schedule a consultation.