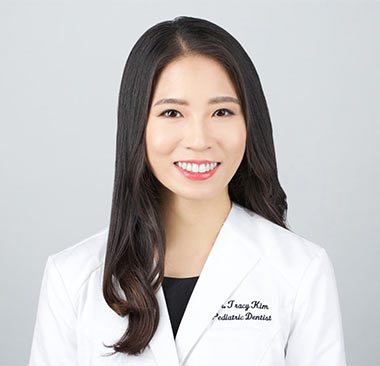 Dr. Tracy Kim grew up in Vancouver, Canada. She studied Bachelor of Science and received her Doctor of Dental Medicine (DMD) degree from the University of British Columbia.
After receiving her doctorate degree, she relocated to New York where she completed a one-year training of General Practice Residency followed by a two-year Advanced Education in Pediatric Dentistry at the Jacobi Medical Center, an academic affiliate of the Albert Einstein College of Medicine.
Her training has provided her with experience in all scopes of pediatric dentistry including:
Management of odontogenic infections
Dentoalveolar trauma
Interceptive orthodontics
Treatment under sedation
Patient care for special needs children
The focus of her research during residency was about management of pediatric dental infections. Moreover, she published an article on the diagnosis and management of bleeding disorder in correlation to dental treatment, which can be found in the Journal of Pediatric Dentistry of 2018.
Dr. Tracy Kim, top rated pediatric dentist in Brooklyn, is board certified by the American Board of Pediatric Dentistry (ABPD) and the Royal College of Dentists of Canada (RCDC). Moreover, she remains up to date in her certifications in Basic Life Support (BLS), Advanced Cardiac Life Support (ACLS) and Pediatric Advanced Life Support (PALS).
She is currently an active member of the following academic societies:
As a pediatric dentist, she strives to establish a trusting relationship with all of her patients and their families and to create an enjoyable dental visit for everyone. She continually aims to become an active advocate of children's dental health.
Aside from dentistry, she enjoys outdoor activities such as snowboarding and hiking, trying different cuisines and spending time with her family.
Pediatric Dentistry Center
2148 Ocean Ave, Ste 401A
Brooklyn, NY 11229
☎ 718-339-1810
DISCLAIMER: PLEASE READ CAREFULLY
The information on this website is to provide a general pediatric dentistry information. In no way does any of the information provided reflect a definitive treatment advice. It is important to consult a best in class pediatric dentist in Brooklyn regarding ANY questions or issues. A thorough dental evaluation should ALWAYS be performed for an accurate diagnosis and treatment plan. Be sure to call your local kids dentist or pediatric dentist Dr. Igor Khabensky DDS or Dr. Tracy Kim, to schedule a consultation.